Section 2 Champions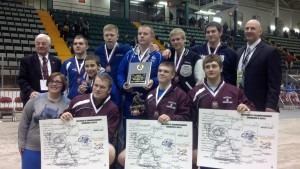 Congratulations to the Hadley-Luzerne/Lake George WarEagles wrestling team for their accomplishments during the last two weeks. On February 7th, the WarEagles claimed their second straight Class C sectional title while having six individual Class C champions. Winning class C Sectional titles for the Eagles were Jason Hoffman, Michael Sutliff, Forrest Kubricky, and Tyler VandenBogaard. Also placing were Todd Woodcock (3rd), Orlin Tremaine (3rd), and eighth grader Cody York (6th). On February 14th and 15th the WarEagles had nine wrestlers eligible to compete at the Section 2 State Qualifiers at the Glens Falls Civic Center. On day one, the WarEagles competed with great effort and won 16 of the total 18 individual matches wrestled. This placed 7 of the wrestlers in the semifinals and guaranteed all nine to place in the top six of their respective weight classes. On day two, the WarEagles picked up where they left off and achieved historical success, winning the Section 2 Division 2 team title for the first time in program history. Staking its claim as the top small school wrestling team in Section 2. The Eagles had two Section 2 champions in Jason Hoffman and Forrest Kubricky. Forrest won all his matches by pin and it took him just 0:47 seconds to win in the finals. Meanwhile, Jason faced the defending Section 2 champion and returning state finalist from Duanesburg in the finals. Jason wrestled the best match of his career defeating the former champion in overtime to claim his first section 2 championship and was voted the Most Outstanding Wrestler of the tournament. Placing second was Tyler vandenBogaard losing a heartbreaker in triple overtime. Placing third was 9th grader Michael Sutliff and unseeded seniors Todd Woodcock and Orlin Tremaine both ended their careers with a sixth place finish. Jason and Forrest have now qualified for the New York State wrestling championships at the Times Union Center, in Albany, held on February 27th and 28th. Prior to the finals, co-head coaches Larry Rounds and Jack LaBombard were awarded the Class C coach of the year award voted by the other coaches in the section.
The February 9th, 2015 Board Meeting has been rescheduled to February 12, 2015 at 6:30pm EST.
SU4US
More than a thousand teachers, administrators, parents and other supporters of education gathered at Saratoga Springs High School Thursday night to advocate for more equitable funding for schools in upstate New York. The regional advocacy event brought representatives from the 31 school districts in the Washington-Saratoga-Warren-Hamilton-Essex (WSWHE) BOCES area together to "Stand Up for Upstate Schools." Hadley-Luzerne was represented with faculty, board of education members, concerned parents, and administrators in attendance. Among other advocacy efforts, the event focused on ending the Gap Elimination Adjustment (GEA), a measure instituted in 2010 to spread a portion of the state's budget shortfall among school districts through cuts in state aid. Since 2010, schools in the WSWHE BOCES region have lost $198.5 million in promised state aid to the GEA.
Since 2010, Hadley-Luzerne has had over $4.7 million dollars in state aid withheld as part of the GEA. This reduction in state aid has come at the same time as the implementation of a tax levy cap, increased academic standards with the Common Core, and new teacher and administrative evaluations. Hadley-Luzerne has seen a reduction of the equivalent of 19 positions since the GEA was implemented. "The state is projecting budget surpluses now. How can we continue to justify the GEA when those budget gaps are gone?" asked Robert N. Lowry, the deputy director of the New York State Council of School Superintendents. Lowry was part of a panel of speakers that included representatives from business and higher education, as well as a teacher, a parent and a student.
Allison Lanfear, a member of the panel and a senior from Warrensburg Junior/Senior High School, talked about the impact the GEA and other budget cuts have had on her school. "Having to make these budget cuts and to cut teaching positions is unacceptable," Lanfear said. "It's frustrating for all of us, and it's frustrating for me not to get a complete education." More information on supporting this initiative can be found on our website under community links or pick up the information pack at any of the school offices.
TEACHER CONTRACT SETTLED
I'd like to express my gratitude to board members Mary Visscher, Eddie Joe Moulton, and Joe Hanlon who played significant roles in negotiating a successor Hadley-Luzerne Teacher Association contract. The new contract, which covers three school years, took nearly a year to negotiate and reflects a strengthening of the board's partnership with our instructional staff.
We are very proud of our teachers and we value their service greatly. They significantly impact the lives of our students inside and outside of the classroom each day. The contract settlement is intended to express our school community's belief in the importance of our teachers, while also recognizing the incredibly challenging fiscal times that we find ourselves.
Over the course of the contract, most teachers will receive reasonable increases in salary along with step, ranging from one to two percent each year. In addition, our teachers have agreed to increase their contribution toward the cost of health insurance by five percent and limit the future cost of in-service credit and graduate credit. Other provisions include the district's ability to offer teachers a less expensive health insurance plan and support the grade reconfiguration planned for the 2015-2016 school year by altering contract language to make all K-6 elementary teachers work a similar schedule.
BOARD OF EDUCATION SEATS
The Hadley-Luzerne Central School District announces the following vacancy on its board of education: Two vacancies for a three (3) year term, commencing on July 1, 2015 and expiring on June 30, 2018 to succeed Mary Visscher and Joseph Hanlon, whose terms expire on June 30, 2015. Petitions nominating candidates for the office of member of the board of education shall be filed with the district clerk at the H-L Superintendent's Office, SMTMS, 27 Hyland Drive, Lake Luzerne, NY, no later than MONDAY, APRIL 20, 2015 between 9:00 a.m. and 5:00 p.m. Each petition must be delivered to the district clerk, must be signed by at least 25 voters of the district or 2% of the number of voters from last year, whichever is greater and must state the name and residence of the candidate that shall fill the vacancy "At Large" at the Annual Budget Vote and Election on May 19, 2015 between 12:00 noon and 8:00 p.m. A copy of such petition may be obtained at the Hadley-Luzerne CS District Office, SMTMS, during regular school hours. To qualify formembership on a school board an individual: Must be able to read and write; Must be a qualified voter of the district, that is a citizen of the United States, at least 18 years; and not a convicted felon or adjudged as incompetent; Must have been a resident of the district for at least one year prior to the election, but need not be a tax payer; May not have been removed from any school district office within the preceding one year; May not reside with another member of the same school board as a member of the same family; May not be a current member of the school board; May not simultaneously hold another incompatible public office. If you have any questions regarding being a board member, please contact any current board member or the Superintendent of Schools, Dr. Paul Berry at 696-2378 ext.108.
HL KINDERGARTEN ROUND-UP 2015
Hadley-Luzerne Elementary School will be conducting its annual Kindergarten Round-Up on Tuesday, May 5th and Wednesday, May 6th. The round-up will take place at the Hadley-Luzerne HS George Doherty Gymnasium Lobby, 273 Lake Avenue. Students are eligible for Kindergarten if they turn five (5) years of age on or before December 1, 2015. If you read this notice and know of any family member or neighbor with school age children who are eligible to attend Kindergarten, please share this announcement with them. Please complete the information below and return this form to the H-L Elementary School Office, P.O. Box 200, Lake Luzerne, NY 12846. You will receive an informational letter that will include a scheduled time for you and your child to attend the HL Kindergarten Round-Up. This form is also available on our website HLCS.org. Should you need any additional information about Kindergarten Round-Up, call the H-L Elementary School at 696-2112 x 101.
Name of Child: __________________________________
Date of Birth: ______________________ Gender: ______
Parent/Guardian: ________________________________
Address: _______________________________________
___________________________________________
Phone: _________________________________________
E-mail: ________________________________________
YEARBOOK
To place a local business ad in the 2015 H-L Yearbook, please call 696-2112 Ext. 189, for information. Parents and guardians can now pre-order yearbooks on-line at HLCS.org or in any school building office! (Click on parents and scroll to yearbook.)
WAREAGLE YOUTH WRESTLING
The 2015 youth wrestling season will begin on Wednesday, February 11th and will be held each Wednesday and Monday from 6:00 p.m. to 7:30 p.m. in the High School Small Gym. Parents are invited to stay and watch practice. The youth wrestling season will continue through March 28th. If you have any questions feel free to contact Coach LaBrake or Coach Rounds @ 696 – 2112 Ext. 105.
AUTISM RUN/WALK SCHEDULED
The 6th Annual Autism Awareness 5K will be on April 18th.
This event is sponsored by the H-L Autism Task Force.
It is open to all ages and always a fun time. Please plan on joining us!!