---
ANNOUNCEMENTS
---
HLCS ESSA Parent Letter - From Superintendent Baker
---
The HLCSD Parent Portal / Family Link is in transition as we switch to a new Student Management System. We hope to have it up by the end of the year.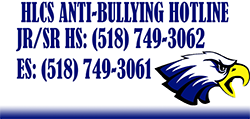 ---
Welcome to Hadley Luzerne Central School District
Our mission is to foster a positive, safe, and healthy environment that will enable every student to achieve their highest potential. The district will partner with parents and community to empower students, celebrate in their successes, and support them along their educational journey.
The Stuart M. Townsend Elementary School is located at 27 Hyland Drive, Lake Luzerne NY, 12846 - Phone: (518) 696-2378
The Hadley-Luzerne Jr. Sr. High School is located at 273 Lake Ave, Lake Luzerne NY, 12846 - Phone: (518) 696-2112