Our mission is to foster a positive, safe, and healthy environment that will enable every student to achieve their highest potential. The district will partner with parents and community to empower students, celebrate in their successes, and support them along their educational journey.
---
HIGHLIGHTS
Have you visited our NEW Facebook page? Follow us to stay up-to-date with what's happening at Hadley Luzerne CSD: @HadleyLuzerneCSD
Congratulations to WarEagles Wrestling on winning the
Section 2 Class C Championship!
HLCS ESSA Parent Letter - From Superintendent Baker
---
The HLCSD Parent Portal / Family Link is in transition as we switch to a new Student Management System. We hope to have it up by the end of the year.
If you have any questions please contact Mr. Carpenter at 518-696-2378 x1119 or Scot@hlcs.org. Thank you!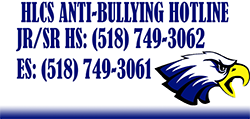 ---
GET SOCIAL
These accounts are an additional media communication method for the school community.
Community members are invited to follow us!
---
The Stuart M. Townsend Elementary School is located at 27 Hyland Drive, Lake Luzerne NY, 12846 - Phone: (518) 696-2378
The Hadley-Luzerne Jr. Sr. High School is located at 273 Lake Ave, Lake Luzerne NY, 12846 - Phone: (518) 696-2112