HADLEY-LUZERNE CLAIMS TWO HIGHEST HONORS AT 17TH NCMOAS
The North Country Model Organization of American States is a class taught in several school districts stretching from Granville in the east to Thousand Islands in the west. It is a college credit bearing class that students also earn NYS Participation in Government credit. Students are asked to represent nations across the western hemisphere from the perspective of the people of those nations regarding several agenda topics spanning from social issues, to political issues to environmental issues. This year Hadley-Luzerne had enough students to represent two nations – Canada and Panama. Their advisors, Mr. Jay Connelly and Mr. Wayne Strong, prepared the students with public speaking exercises, creative/critical thinking, political thought, marketing and even trips to Costa Rica and Mexico. This allowed students to perform with a high level of authenticity. At the culminating event at SUNY Plattsburgh, before a room of their peers, Hadley-Luzerne swept the two highest awards for Diplomacy for the second year in a row – Canada was awarded Most Diplomatic; Panama was awarded the Runner-Up. The 1st Committee award also went to Canada. Congratulations are in order to all who participated.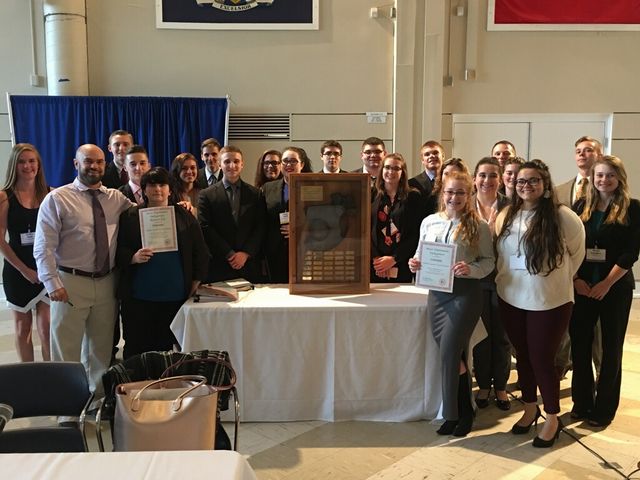 Front row: Mr. Connelly, Mackenzie Jerome, Jon Schreiner, Ashley Wells, Gabrielle VanWie, Charliann Friedman, Taylor Necatera
Second row: Caitlyn Fuss, Matthew Waterhouse, Katlyn Petteys, Jesseka Millis, Anthony Caradonna, Kyle Frenette, Jason Hoffman, Danielle Clement, Alexandra Samson, Rebecca Daniels, Maya Parsons
Back row: Jackson Diamond, Bruce Weiss, Mr. Strong, Skyler Archambeault ; Missing: Autumn Burns & Rzonathan Morris
Welcome to the Hadley-Luzerne Central School District.
The Stuart M. Townsend Elementary School is located at 27 Hyland Drive, Lake Luzerne NY, 12846 - Phone: (518) 696-2378
The Hadley-Luzerne Jr. Sr. High School is located at 273 Lake Ave, Lake Luzerne NY, 12846 - Phone: (518) 696-2112
FOLLOW HLCS ON TWITTER @HL_CSD
The purpose of the account is to add an additional media communication method to the school community. Community members are invited to follow us at @HL_CSD.