DMV Online Permit Test

The Online Knowledge Test Application (OKTA) for a NYS Learner Permit is offered at Hadley-Luzerne Jr./Sr. High School for students age 15 and older, free of charge.

The permit test can be taken as often as is necessary to achieve a passing score. DMV Driver's Manuals are available online and also at the school.

The test is graded immediately upon completion. Students will then receive a pass/fail receipt. The passing receipt may be submitted to any DMV once the student reaches age 16.

Students are responsible for all forms and fees associated with obtaining their learner permit and license from the DMV.
Congratulations Erik and Katrin Schreiner
on representing Section 2 at the Nordic Ski State Championships!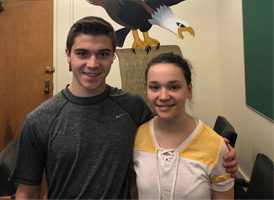 Welcome to the Hadley-Luzerne Central School District.
The Stuart M. Townsend Elementary School is located at 27 Hyland Drive, Lake Luzerne NY, 12846 - Phone: (518) 696-2378
The Hadley-Luzerne Jr. Sr. High School is located at 273 Lake Ave, Lake Luzerne NY, 12846 - Phone: (518) 696-2112
FOLLOW HLCS ON TWITTER @HL_CSD
The purpose of the account is to add an additional media communication method to the school community. Community members are invited to follow us at @HL_CSD.
The HLCSD Parent Portal / Family Link is in transition as we switch to a new Student Management System. We hope to have it up by the end of the year.
If you have any questions please contact Mr. Carpenter at 518-696-2378 x1119 or Scot@hlcs.org. Thank you!